As long as I live, I may never execute a more successful opening lap in a motorsport event. 
Having picked my team's grid position by pulling a number out of a hat, I started the three-hour grass-track event seventh out of 19 cars. The train of tired old hatchbacks and the odd knackered coupé completed two slow laps behind the safety car before the green flag was waved. Immediately after crossing the start/finish line, we squeezed one by one through the single-file chicane, then in the long right-hander that followed I was able to drive around the outside of the car ahead of me to climb into sixth position.
A corner or two later, the BMW 3 Series coupé that had started from fifth position spun, allowing me to slip past. And then, towards the end of the opening lap, one of the leading cars pulled over with steam pouring from its bonnet. And so, for a brief but oh-so-sweet moment, car 17 was flying high in fourth position. Fourth! Eat my dust, Lewis.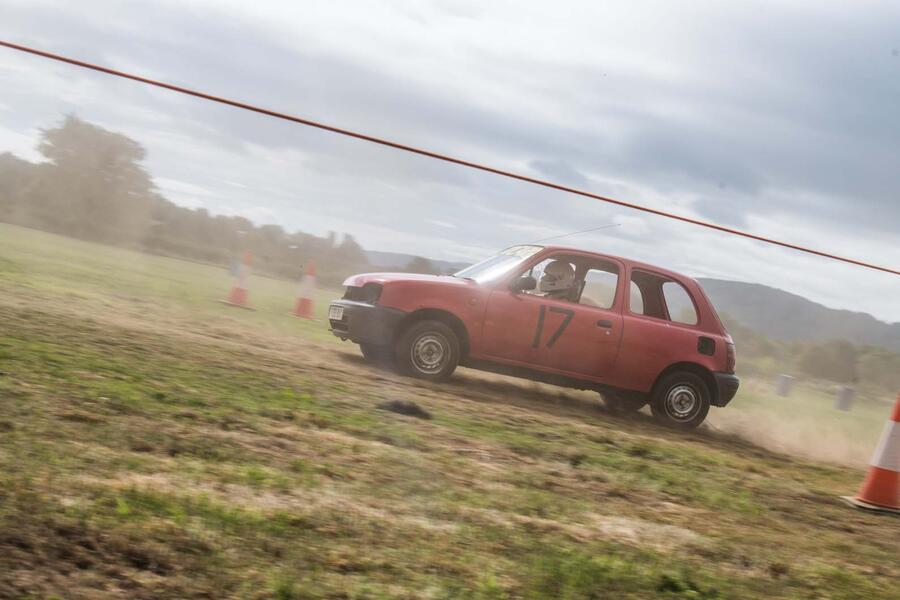 Allow me to bring you up to speed. A few weeks earlier I'd bought the cheapest used car I could find, which turned out to be this tatty 22 year-old, K11-generation Nissan Micra, to see if it was at all possible to buy a vehicle for peanuts and actually use the thing. By driving 500 miles in a single day and experiencing not one problem, I like to think we answered that question in emphatic fashion. Which rather begged the question: exactly how tough is a 1996 Nissan Micra? If it could survive three hours of being thrashed around a bumpy field, we would have our answer. 
The Hearst Challenge, organised by Gloucestershire rally driver Dan Moss, is an annual endurance event that raises money for the local air ambulance. Over the years, it has donated tens of thousands of pounds to a very good cause. The only significant rules are each team must buy and prepare its car for no more than £500, and it must be two-wheel drive. Otherwise, it's all fair game.